My husband heard from Michael D. that it's my fault you're here. I'm thrilled to hear it. And wish you all the very best ....

Nora Ephron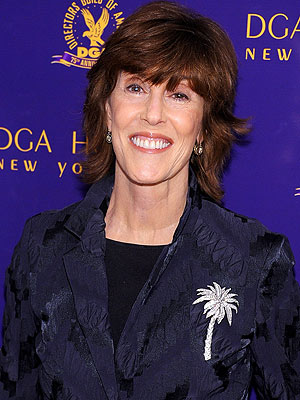 Nora Ephron is one of the reasons I moved to New York City in 2006. She wrote pragmatically yet dreamily about the city I'd fantasized over, and made movies that might as well have been love songs to that hot, crowded island. Nora, to me, was the quintessential New York City girl. Successful. Strong. Independent. Beautiful. Talented. Smart. Everything I wanted to be.
Dear Nora, it is all your fault that I moved to New York City.
I dreamed about being a writer my entire life. More to the point, I dreamed about being a writer in New York City. In my adolescent brain, there was no writer more New York than Nora Ephron: a feminine voice to my masculine reality, a woman who respected women and didn't mock them, who created silly yet realistic female characters who were flawed in stereotypical girlish ways but strong and independent in ways I'd never observed in my sheltered Alaskan youth. Those were New York City girls.
Dear Nora, it is all your fault that I moved to New York City.
I didn't move to New York City to find love. I moved to New York City to find adventure and stories. I moved to New York City to be the kind of strong, independent, and feminine woman who pounded the pavement in sensible flats by day and strutted in heels at night. I would write. I would work in my dream job(s). I would live on my own. I would be a Nora Ephron character, and I was sure I'd find love—or multiple loves—along the way. While I never reached the level of financial success (Sally Albright), I never fought against The Man (Karen Silkwood), or gained the notoriety (most recently the fictional versions of Julie Powell and Julia Child) that Nora's characters did, there were days when I felt so amazing that I might as well have.
Oh Nora, it is all your fault that I moved to New York City.
One of Nora Ephron's first jobs was in the mailroom at "Newsweek." Even though she was the daughter of two prominent screenwriters, she worked. Sometime toward the end of my senior year of college, I made the firm decision not to return to Alaska for any amount of post-collegiate time, bound and determined to move straight to New York City. I've asked my mother why she let me go, and she replied, "Because I knew you were going to do it no matter what I said. And I supported you in that."
Nevertheless, after having applied for what felt like 10,000 jobs in two months' time without so much as a "thank you for applying but we went with someone else" email, I felt dejected and put out and started to question my decision to move to the city. If I didn't find a job, I would blow through my savings in no time (and I did). Growling in frustration, I found myself one night reading one of Nora's essays. In it, she described her job at "Newsweek." A light bulb went off in my head. Hadn't I just seen a mailroom job posted on the Weinstein Company's website? Yes, I had. Nora Ephron, successful writer and filmmaker, strong, smart, independent woman, had worked in a mailroom.
Dammit, I thought to myself, I will work at Starbucks or the shoe department at Macy's or some other crappy retail job if I have to. I was going to move to New York City. And nothing was going to stop me.
Luckily, I never had to work in retail—food, clothing, or otherwise. Even though I'd jokingly dressed up as a Starbucks barista at a theme party where we all had to dress up like our future selves, I'd gotten a call for an interview in one of my dream industries: book publishing. And then I got the job. It wasn't glamorous but it everything I'd wanted…for the first month, anyway.
In the spring of 2008, still in publishing albeit in a different role altogether, I was working with an incredible (and some would say incredibly difficult) author (though I would disagree) who happened to be close friends with Nora's husband, Goodfellas writer Nick Pileggi. The author asked me how and why I had made my way from Alaska to New York City. I told him the truth: I'd wanted to live there since I was eight years old. Then I told him what kicked me in the butt and made me do it: Nora Ephron.
Days later, he'd apparently gotten word to Nick and Nora and told them my story. The words at the top of this post are from an email Nora sent to me personally--it was one of the best days of my life. One of my idols had written to me! Though short and sweet (and yet very Nora), it kept my feet on the ground for longer than I'd expected, and pushed me to get out of the publishing job and into TV, where I was so sure I belonged.
Things have so drastically changed since then. I had my heart shattered. I discovered my dream jobs weren't actually my dreams. I realized that New York City had become the tired old heels that needed to be retired from my life and passed down to the next bright-eyed girl to hit its streets. So, I left.
If it hadn't been for the work of Nora Ephron and her strong female characters, would I have taken that step and gone straight to New York City? I have no idea. Probably. But having that female idol and reading her words meant the world to me.
Dear Nora, I will miss your work dearly. I'm devastated that I'll never see your next film, never read your next essay. But I will always have what you have done, what has inspired me, what has helped keep me going.
Dear Nora, it is all your fault that I believe in myself. And I thank you.