Right now, I have about a billion bug bites.
Yes, I'm exaggerating. But that's what it feels like. After being eaten alive by some bugs (I'm guessing misquotos) at a restaurant on Saturday night (eek!), I'm itchy, itchy, itchy.
That said, I found it extremely fitting that I stumbled across this
Village Voice
headline this morning: "
Bedbugs Take Over Hachette Book Group's Offices
."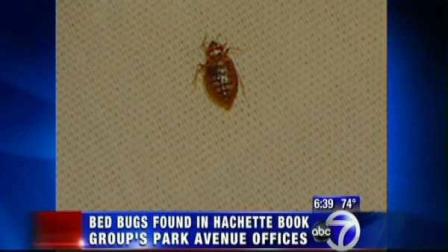 The article itself is dated last Thursday, but in all my hecticness, I'm a little behind on these things. I did, however, already know about the two Abercrombie and Fitch stores here in the Big Apple that were closed for bed beg infestation recently, so while this news was surprising to me, it wasn't unbelievable.
The Village Voice
reports:
Coming to you with the latest in bedbug news: Hachette Book Group's three floors at 237 Park Avenue and East 46th Street are infested and undergoing "aggressive treatment" for the bugs on Thursday and Friday while, we presume, the lucky/unlucky Hachette employees "work from home" or "go to the beach."

So now we know, bedbugs aren't just into cheesy clothes or lingerie; they like books, too! Maybe bedbugs are just like us, with different tastes and personalities -- some head straight to Abercrombie for cargo shorts and tees; others cozy up with a good (or so-so) book on Park Avenue. We hear CBS and ad agency Euro RSCG Worldwide dealt with the bugs as well, so perhaps they're into all sorts of media. [via ABC, WSJ]
*shudder*
In NYC, bed bugs are more common than us respidents would like to admit. They also cause much more inconvenience and drama than we have time or money to afford the little buggers. So, naturally, when it hits the offices of a major book publisher, it hits a little too close to home.
Where's
Roscoe
when you need him?