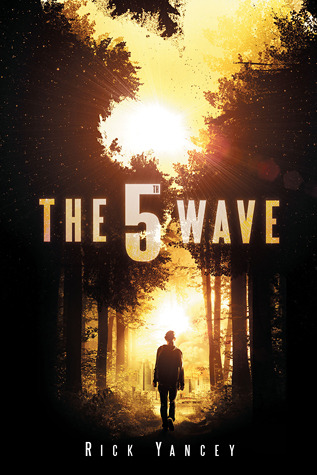 I read the ARC for this one last year and really enjoyed it. Its structure and writing style are very cinematic in the first place, so I'm already feeling the buzz of excitement shaking my body at what they'll be able to do in an actual film. I. Cannot. Wait.
Sony Pictures announced that they officially inked the deal with Chloe Grace Moretz to play Cassie in the film adaptation of Rick Yancey's The 5th Wave. Relative newcomer J Blakeson will direct, but veteran Susannah Grant will write the adapted screenplay (Erin Brockovich; The Soloist). After the world has been destroyed by four waves of brutal alien invasions, a young girl named Cassie is desperately trying to save her little brother before the inevitable "5th wave" of attacks. On her journey she meets a boy who may be her only hope of survival.
So yes, the plot is not super original, but the book has sold very well. It spent 20 weeks on The New York Times Best Sellers list, sold 240,000 hardcover copies and 55,000 e-books. The novel also won the 2014 Red House Children's Book Award in the UK. The second book in Yancey's planned trilogy, The Infinite Sea, will be published on September 16, 2014.

And as we've come to realize with these other YA film franchises, the key is a compelling female star and Chloe Grace Moretz certainly fits that bill. Her biggest role to date is playing the telekinetic teen Carrie in the remake of Stephen King's novel. And she's set for a handful of big upcoming roles: The Equalizer where she'll play alongside Denzel Washington and Dark Places, an adaptation of Gillian Flynn's novel which will also star Charlize Theron and Nicholas Hoult. Most importantly though, Moretz has been kicking a** since 13.





See original post

HERE

from

Entertainment Weekly
Actors
Nick Robinson and Alex Rox joined the project
in June, and it was just announced today that
Maika Monroe is on board
, as well. There is also going to be a familiar face behind the camera, with Tobey Maguire co-producing:
Sony's young adult alien invasion thriller "The 5th Wave" has added Maika Monroe to play the role of Ringer opposite Chloe Grace Moretz, it was announced on the film's Twitter page Monday.
J. Blakeson is directing the adaptation of Rick Yancey's bestselling YA novel, which has a screenplay by Susannah Grant. Nick Robinson and Alex Roe also have lead roles, while Liev Schreiber is in final talks for a villain role.
Moretz plays Cassie Sullivan, one of the last surviving humans left on a planet savaged by waves of alien attacks. When her little brother goes missing, she journeys to find him, meeting a mysterious young man named Evan Walker (Roe) along the way.
Robinson's Ben Parish takes Cassie's little brother under his wing, while Monroe's Ringer is another member of his team, tough and capable with a gun.
Tobey Maguire, Graham King, and Lynn Harris are producing, with Matthew Plouffe and Denis O'Sullivan executive producing.
"The 5th Wave" will be released on January 19, 2016. The book is the first in a planned trilogy. The second book in the series, "The Infinite Sea," is out in September.
See original post HERE from The Wrap